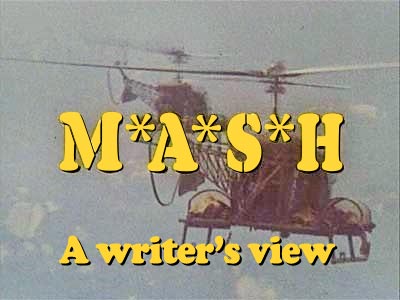 Long, long ago, when I was relatively young, one of my favourite TV shows was a screwball comedy about an Army hospital in the Korean War, called M*A*S*H. The show went off the air decades ago, after a fabulously successful eleven-year run, but it has carved out a permanent niche in popular culture. I don't suppose there has been a day in the last thirty years when an episode of M*A*S*H didn't air in syndication somewhere. Some of the show's most ardent fans today were not yet born on February 28, 1983, when the series finale aired to a record-breaking audience of 125 million.
Thirty years after the show ended, I took a fancy to download all 251 episodes and binge-watch them over the course of several months. In the interval, I had gone from an unwashed kid with dreams of becoming a successful writer to… well, a modestly unsuccessful writer with dreams of becoming a successful writer. After long years of honing my craft, I couldn't help myself: I watched M*A*S*H this time with a critical eye. And I found a revelation. Back in the day, I appreciated the comedy, the stories, the wonderful performances of the cast. This time it was the structure of the show, the quietly brilliant work done by the writers and producers, that held my attention. I started furiously taking notes.
I have put a lot of my thoughts and opinions on the subject into a series of loose and rambling essays. Many people have written about M*A*S*H from the fan's point of view, or from the viewpoint of an actor, director, or Hollywood insider. The pieces that follow are written from the point of view of a working writer. I believe some of my fellow writers, and even  M*A*S*H fans who don't write, may find them of interest for that reason.
M*A*S*H, I firmly believe, has made me a better writer. If you want to learn more about how to create compelling and sympathetic characters, how to drive multiple plotlines in a limited space, how to balance comedy and tragedy, action and pathos, how to refresh an ongoing story by adding new characters and situations, or how to raise the tension in your work by killing a character off in a dramatically perfect way – well, then, watch some episodes of M*A*S*H; you will see all these things and more, expertly done by some of the greatest writers in the history of the mass media.
---
The series so far:
'Par is a live patient'
The book, the movie, recasting for television, and the three basic comedy double acts
'Henry, Please Come Home'
How Laurence Marks went beyond the movie and gave the TV series an identity of its own
'Chief Surgeon Who?'
Larry Gelbart finds his perfect balance in the interplay of comedy, drama, and suspense
'Deal Me Out'
Gelbart and Marks break new comedy ground with a balletic combination of three zany plot lines
'Abyssinia'
The original cast is broken up by the three classic tempters: the World, the Flesh, and the Devil
'Hey, Doc'
Rick Mittleman expertly combines five plots in the most technically ambitious M*A*S*H script
'Ferret Face'
An early misstep and later cast changes lead to the decline and fall of Frank Burns
'The Abduction of Margaret Houlihan'
Loretta Swit's character begins her transformation from the gung-ho but promiscuous 'Hot Lips' into Margaret, the sympathetic Liberated Seventies Woman
'Fallen Idol'
Alan Alda takes the creative reins from the departing Gene Reynolds, and subjects the show's characters to his own quirky version of on-screen psychoanalysis
'Hot Lips is Back in Town'
Margaret's transformation takes a wrong turn, halfway between the Liberated Woman and the Damsel in Distress
'Goodbye, Radar' (Part 1)
'Goodbye, Radar' (Part 2)
The rise, fall, and redemption of Radar O'Reilly, the heart of the 4077th MASH
'Operation Friendship'
Klinger and Winchester bring a fresh touch of comedy to the later seasons of M*A*S*H
'April Fools'
After a wholesale change of writing staff, M*A*S*H never quite recovers its touch for comedy
More to come.…
---
Resources
First of all, the complete series is available on DVD, season by season or in one big boxed set, the 'Martinis and Medicine' collection: as, for instance, from Amazon.com.
Some M*A*S*H fan sites:
Best Care Anywhere
A nifty omnium gatherum of fans and series lore, with a lively message forum
Lattanzi Land: M*A*S*H Essay Series
In-depth and insightful essays by Joshua Lattanzi, one of the younger generation of fans.
D'Snowth's M*A*S*H Reviews
Every episode of the first seven seasons, reviewed at, of all places, Muppet Central Forum.
Ken Levine, story editor of the show from 1977 to 1979 (with David Isaacs), occasionally answers questions about M*A*S*H on his blog. He has much good advice to offer on the art of screenwriting, a lot of it useful even to us inkstained wretches who never go near Tinseltown.
The Archive of American Television features several in-depth interviews with the creators and cast of M*A*S*H:
Alan Alda
Walter Dishell
Jamie Farr
Larry Gelbart
Everett Greenbaum
Burt Metcalfe
Harry Morgan
Gene Reynolds
Loretta Swit
Stanford Tischler