You will note, immediately below, the pathetic plaint of my Vile Human at the illness of his domestic vermin. What he does not mention is that after acquiring this pestiferous pile of protoplasm, he and his mate brought home another. They were supposed to arrive together, but the second beast was having his reproductive proclivities surgically curtailed and was not ready to travel until the following week. Then Vile Human, the silly sap, repeated the four-hour drive (round trip) to Hanna and dutifully collected the fresh vermin.
The new infestation was named Kaos (so spelt) by the folk at the shelter. Here are both vermin together: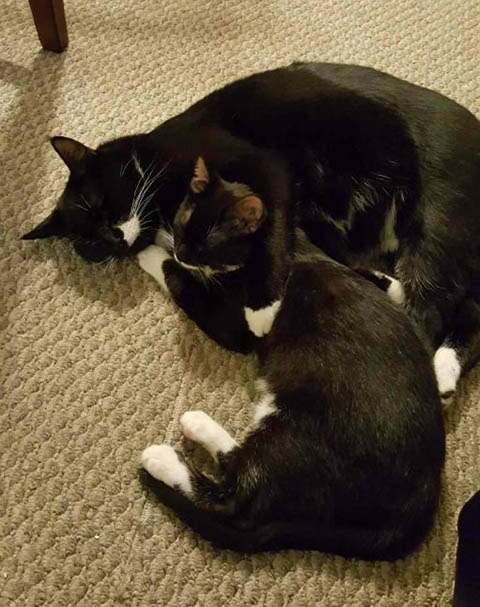 At first Kaos spent most of his time hiding in back closets or under furniture, for he had a blind fear of his new environment which I found most gratifying. Alas, this was soon corrected, and once he was coaxed out of hiding, he and the first vermin, Sonny, quickly attained the sickening condition that the humans call friendship. They are now inseparable boon companions, and it is revolting to see.
If it were not for the first vermin's sickness and its owner's distress, I would find the cloying domestic harmony of the place insufferable. As it is, once the beast recovers from surgery, I may have to decamp and take temporary lodgings in a war zone. True, in a war zone I may see courage and heroism, but I shall also see death, dismemberment, and the suffering of innocents: a refreshment that I much desire. This place is beginning to get positively un-Hellish.
(Signed)
H. Smiggy McStudge
P.S. The Vile Human's mate has bestowed affectionate nicknames on the two vermin. She calls the first one Heffalump and the second one Woozle. It is enough to make one spew.