Now available on Amazon, and wherever such indisputably fine books as this are sold: The Best of Abyss & Apex, Volume Two.
I have the honour to serve on the staff of Abyss & Apex as Editor-at-Large. This collection contains many of the finest stories I have helped to edit during my tenure there. I can't pick a favourite, but Celeste Rita Baker's 'Name Calling' is an excellent piece of work, and George S. Walker's 'Dreadnought Under Ice' is exceptionally nifty. All this and C. J. Cherryh, too!
The book is immediately available in both paperback and ebook editions. The price is a very reasonable $9.99 and $3.00 U.S., respectively, or the equivalent in your local dosh.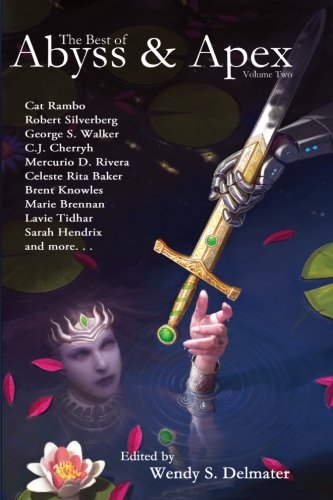 One of the duties attached to my position was to do the interior design for this 'Best Of' anthology, in both ebook and print formats. It can do no harm to mention that I am available to do this kind of work for other clients at reasonable rates. (The cover design, however, is by other capable hands; though I assisted in getting it ready for press.)